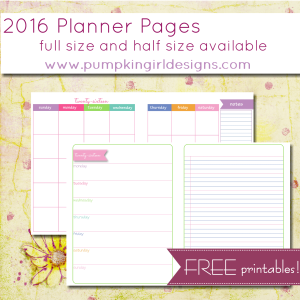 These undated printable planner pages are free to download.  Please do not share the files in any way, including offering them on any website.  You may pin the images to Pinterest or include a link to this page (not the files themselves) on your website/blog.
If you are interested in purchasing pre-dated weekly or monthly planner pages in either half or full size, you can find them in my Etsy shop here: Planner Pages by Pumpkin Girl Designs
Tip:  Download the PDF directly to your computer, save and then print.  If you try to print directly from this site, it does funny things to the size.
Monthly 2016 Pages
8.5″ x 11″ Monthly pages: 2016 Full Month
5.5″ x 8.5″ Monthly pages: 2016 Half Size Month
Weekly 2016 Pages
8.5″ x 11″ Weekly pages:  2016 Full Week
5.5″ x 8.5″ Weekly pages: 2016 Half Week