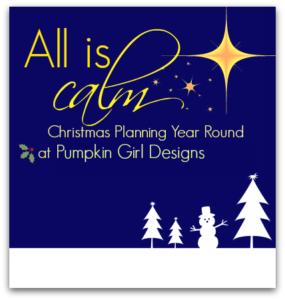 I have so many things to remember every day, that long term planning often suffers.  Trying to write a Christmas newsletter becomes a chore when I struggle to remember a whole year's worth of activities and accomplishments for all the members of my family.  Scout ranks, tae kwon do belts, and everyday victories all blend together when I'm trying to crank out a letter under a deadline.  And try as I might, I just can't remember the book or game or gadget I saw in a catalog or on Pinterest that I thought might make a good gift.  I've got two new planning pages that will help you keep track of all the little details throughout the year and they'll be all ready for you when you need them.
Christmas Newsletter
Tip #1  Keep your letter positive and upbeat, but don't brag too much!  People like to hear good news, but they don't want to feel bad about their own family in comparison.  Write the kind of newsletter that you'd like to receive.
Tip#2  Fill out the Year in Review page at the end of every month.  Keep it brief – a name or initial and brief description to trigger your memory.  An example for me would be, "P – lost 2 front teeth."  It's enough to remember that it was in January that my youngest son tripped and knocked his two front teeth hard enough to need to be removed. True story.
Tip #3 Keep these pages as part of a scrapbook page or in a special section of your holiday planning binder.  It's fun to look at them again and compare them from year to year.  Things that seem so important today are often forgotten, and this is a good way to help you remember.
Tip #4 Choose only the best highlights to write a quick paragraph for each family member.  Instead of a paragraph, you could use a bullet list for each person.  Keep it short, keep it sweet, people will love it.
Master Gift Planning
Tip #1 Keep a running list of gift ideas all year long and include everyone on your gift-giving list.  Note the source – website, store or catalog.  At this point, this is just for ideas or inspiration.
Tip #2 Use the red lines to separate gift ideas by person or ignore them altogether – what ever makes the most sense to you.
Tip #3 This list is helpful for birthday gift-giving, too!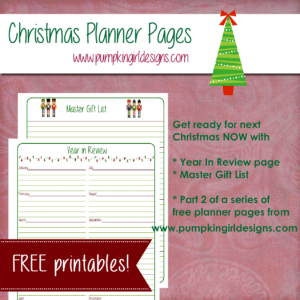 Maintaining these two lists keep me calm and organized come November and December.  Hopefully you will find them useful, too!
Get your free Christmas planner pages here: Christmas Planner -Year In Revew
For best printing results, click on the link above and save the file to your computer.  Don't try to print directly from the website.