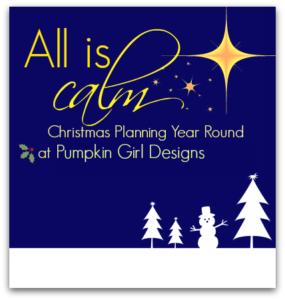 Happy New Year!  Many people are packing up their Christmas decorations this weekend, so it's a perfect time to introduce a new series here on the Pumpkin Girl Designs blog.  Over the next twelve months, I will offer a few tips to help make next Christmas easier and less stressful by planning it out a little at a time.  I'll have free planner pages that will keep you on track.  By the time Christmas comes around again, you'll be calm and organized and you'll have a nice Christmas Planning Binder keeping you on track.
Let's get started!
Packing It All Up
Tip #1 Pack up the way you decorate. If you have a lot of decorations, this will be a real time saver next year.  You might put the decorations that go in one room together, or it might make more sense to put like items, for example-  all the garlands, together.  However it will work best for you when you're decorating next December, put the items together that will make the process easier.  The object is to be able to decorate from one box at a time, instead of pulling things from several boxes at a time and making a huge mess!
Tip #2 Purge as you go.  If it's broken, out of date or unused, get rid of it.  Don't keep hanging on to those things that are taking up space you need for the things you do love and use.
Tip #3 Label your boxes! I have created some free box labels for you to use.  You can print them on blank sticker sheets or do like I do and just print them on regular paper.  There is space for you to write the contents and any additional notes.  I need to have our Advent calendar out first, so I made sure to note which box it is.
Tip #4 Make a note of anything that needs to be replaced or replaced. (You can use any piece of paper, but I have made a red and green "notes" page for you that matches the rest of my free Christmas Planner.) In the past, I've written down that I needed 4 night light bulbs (for our lighted Nativity), a new garland and that I wanted to make a new wreath.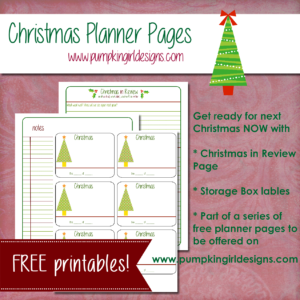 Focus on What We Love
For years I tried to make the Ultimate Christmas for my family.  I was stressed and uptight and I did not enjoy the season very much.  I realized that something needed to change.  I started by asking my family what things they liked most and what things we can drop.  That helped me to really focus on what we love about the Christmas season.  All the extras fell away and nobody missed them.  Each year I make notes to help me remember what we did, what we didn't do, what we loved and what we didn't.  Using those notes, I created a planner page to help you really get to the heart of your Christmas celebration.  As my family grows and changes, so do our activities.  We try new things that we want to repeat – or not, as the case may be!  So I fill out a new page each year to help me plan the next year's activities.  It's also helpful for scrapbooking!  I hope this planner page helps you, too.
Get your free Christmas planner pages and labels here: Christmas Planner Packing Up
For best printing results, click on the link above and save the file to your computer.  Don't try to print directly from the website.